South Carolina Dance Company Offers an Unique Musical Theater Education in Lexington, SC
At South Carolina Dance Company, our Musical Theater classes are among the favorite classes taken by our students. Our classes blend the performing arts with the dance arts to create an educational experience that is challenging yet fun.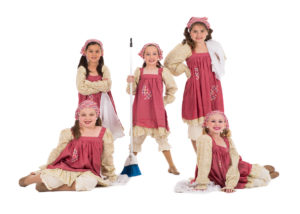 Whether a student is a first time performer or an experienced dancer, our classes are designed to involve many aspects of performing on stage; from dancing to movement, or spoken dialogue to singing, our students are exposed to a wide variety of theater styles.
What is Musical Theater?
Musical Theater a form of theater combining music, songs, spoken dialogue, and dance.
The emotional content of the piece – humor, pathos, love, anger – as well as the story itself, is communicated through the words, music, movement and technical aspects of the entertainment as an integrated whole.
Since the early 20th century, musical theater stage works have generally been called simply, "musicals".